Preparing for the First Tutorial - Gather Information!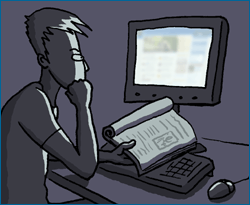 You've got a new student lined up! Congratulations. A new challenge and the opportunity to help someone reach their goals is always exciting.
But, before you get too excited and start imagining them achieving those top grades, you need to plan your first lesson. The first hour you have with a student is crucial for making a good impression and starting to build a strong relationship. One step at a time - you need a plan.
Before sitting down to your plan, you need the following information:
How long the tutorial will be

What you're tutoring: subject and level

What resources they're currently using

Their learning goals

What they're like!
We always recommend that the first lesson is an exploration. You're not going to teach them Shakespeare's complete works, how to converse fluently in Russian or how to prove the quadratic formula from scratch in one hour. But, by the end of the first lesson, you should be beginning to build a rapport, have established clear goals, understand any challenges and have the beginnings of a solid plan for how you're going to work together.
Let's break down those points:
How long will the tutorial be?
Most tutorials you teach will be an hour. But there are variations, depending on how much the student wants to get through and, normally, their age. Sometimes they want intense revision over a short period of time, or to cover a variety of topics over a morning or afternoon. We have had students cover Maths, French, Latin, English, History and Science all in a 3-hour session. Intense but productive!
Sometimes they want shorter lessons, especially if the student is a younger child, and so unable to focus for a full hour.
Be very clear on how long the tutorial will be so you can plan appropriately. You don't want to run out of stuff to do with your student and end up sitting around waiting for a parent to come back. It's better to be over-prepared – you never know you may have a whizz kid who blasts through everything you set for them! If you don't cover everything in your plan, no problem – you'll already be partly prepped for the next one!
2. What are you tutoring them?
This should go without saying, but make sure you know what subjects they want to cover and at what level. If it's relevant, find out what exam board they'll be working to, what school they're applying to or any other relevant information. Make sure you're up to speed with the latest curriculum, mark scheme or standards, and have the right resources to hand.
If you're not sure what subjects you can tutor, we recommend being at least one school level above what they want to learn. So, for example, if they're doing GCSEs, you should have the A Level or equivalent in that subject. If they're doing A Levels, you should have at least some University level experience of the subject.
Try and find out from their parents or from the student directly beforehand if there are particular areas of the syllabus they want to jump into. If English, is there a set text they're working on? If a foreign language, do they want to improve speaking or listening skills? If Maths, is there a particular topic they want to start with? You get the idea. You don't need to have memorised the whole book, vocab list or syllabus for the first lesson, but making sure you're familiar with it will allow you to talk knowledgeably about it while you find out what their problems or stumbling blocks are.
3. What resources are they using?
Speaking of resources, try and find out what they have themselves and what they want to use. Do they have school textbooks they want to use? Revision Guides? Are they revising for 11+ with past papers? Do they just want homework support? Are they expecting you to provide resources? This is important so you know what to bring with you.
4. What are their learning goals?
This is the most important. Why have you been hired? We've had adult learners who've decided they have a passion for classical archaeology later in life, students hoping to get that magical Grade 5 in GCSE Maths, kids applying for prestigious preparatory schools or teenagers who just need a little extra support to stay focused through their summer holidays.
These things all affect how you prepare for your lesson. If there's a clear goal, like passing an entrance exam or acing a test, work backwards. What will they need to have achieved by the day of the exam? Chat to them or their parents about their current level. You can then start the first lesson by going through some exercises or topics they'll need to know, to assess their ability . If it's more general learning, bring some example exercises to work through with them and get a sense of the level they're at. Discuss your plan to get them from a to b (or B to A as the case may be ;).
Broadly, students fall into the following categories:
● Entrance Exams.
These vary a lot. Entrance exams can be taken at 6(!), 10, 12 , 15 and 17. I.e., 7+, 9+, 11+. 13+, Sixth Form and University.
● National exams.
In the UK, this is mostly GCSEs and A Levels, but you do get others, like BTECs or the International Baccalaureate as well.
● University Students
Plenty of students need extra support when working towards their degrees. These students do need more specialised help. Remember the "one level above" rule? Make sure you've at least got a relevant MA or PhD is you tackle these.
● General improvement
They might not be working towards a specific goal yet, just struggling with a specific subject and want help.
● Adult learners
These can be all sorts and require their own blog post. We'll get to that!
5. What your student is like.
As important as the previous one. Delphi Tutors always takes time to find out a little about the student's particular personality or learning needs. And we make sure to pass it on to you, to help you prepare. Are they particularly shy? Do they struggle mostly with focus? Or is it retaining information? How do they enjoy learning? Are they visual learners, kinesthetic, discursive? All of this will help you work out how to approach that first lesson and start building a tutoring plan.
Parents tend to be quite forthcoming with this kind of information as they know their child best and want them to succeed! It will help you to be mentally prepared for the challenges they're having, so you can guide them through it and prepare some tactics to help them out.
Once you have all this information, you can put together your first lesson plan. Our next post will cover tips on how to structure it.